Description
You can spend hours researching websites and catalogs, but you won't find another gun safe that compares to a Pinnacle. The Pinnacle is a symbol of strength with an unmatched combination of security, fire protection, interior versatility and elegance. The safe body is formed from a sheet of thick 3/16″ steel for exceptional strength and rigidity. Inside, you will appreciate the beauty of fragrant cedar and simulated leather. The Pinnacle is also available in seven colors to perfectly complement your home. For the ultimate in security and beauty, look no further than the Pinnacle.
FEATURES: 
ThermaBlock:
Exclusive to Browning ProSteel safes, ThermaBlock features thicker sheets of fire insulation arranged in an interlocking design that minimizes gaps that would allow the internal temperature in the safe to rise during a fire.
DPX® Storage System:
This system maximizes gun storage space by including a modular system of door mounted racks for long guns as well as pouches and pockets for pistols and other valuables.
Axis Shelving:
For the first time ever you have a totally modular system that let's you customize your gun safe interior exactly the best way to maximize space, protect guns and improve accessibility.
Scope Saver:
Scope Saver takes advantage of space in the door to fit a scoped gun in the same space as a non-scoped gun.
Pry-Stop Corner Bolts:
Innovative long locking bolts extend diagonally from a reinforced support at the corners of the door to protect against pry attack at the vulnerable corner areas.
Exterior Options: 
Hardware/Trim Options: 
Lock Options: 
SIZING: 
65 Tall Extra Wide: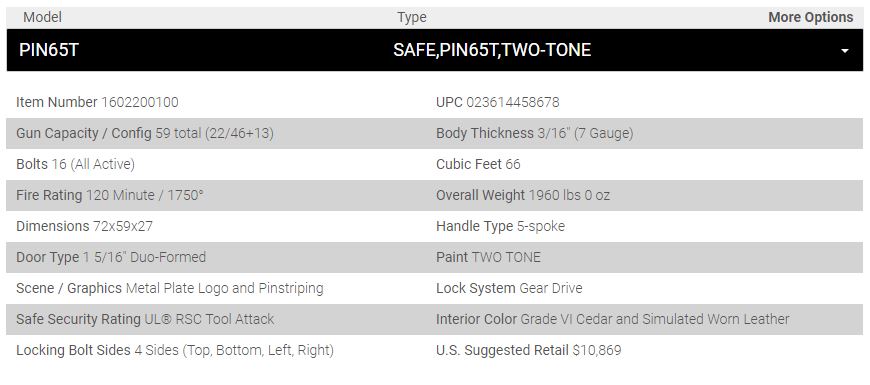 49 Tall Extra Wide: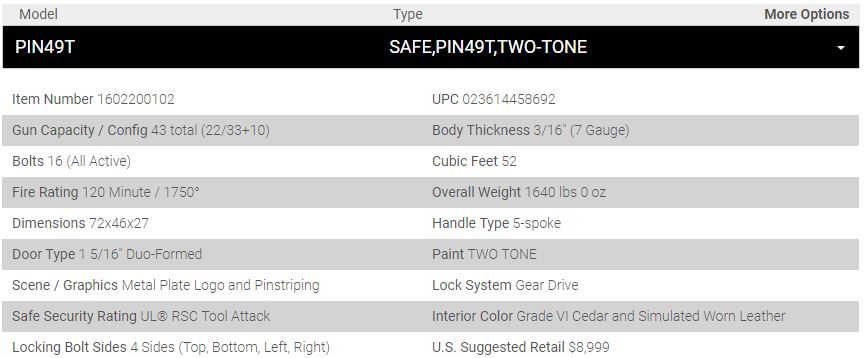 49 Wide: